Konica Minolta is Named Market Leader for Colour Light and Mid Digital Production Printer in ASEAN 2022

Konica Minolta Digital Production Printers in the colour light and mid-category have taken the top spot across 6 ASEAN countries in 2022, cementing their position as the preferred choice for businesses seeking unparalleled quality and efficiency in printing technology.
Konica Minolta Business Solutions Asia is pleased to announce that it has achieved the #1 market share in the Colour Light and Mid Digital Production Printer Segment across six ASEAN countries – Singapore, Malaysia, Thailand, Vietnam, Indonesia and Philippines in 2022. This outstanding accomplishment is a testament to the success of Konica Minolta's innovative product line, which includes the AccurioPress C4080 Series, the AccurioPress C83hc, the AccurioPress C7100 Series, and the award-winning AccurioPress C14000 Series.
As a leading service provider for the production printing industry, Konica Minolta offers a wide range of cutting-edge hardware products, integrated workflows and innovative applications that enable businesses to grow in a highly competitive market.
With a strong focus on product development and customer centricity, Konica Minolta provides reliable and high-performance hardware that are designed to deliver exceptional quality, speed, and efficiency, while reducing costs and increasing productivity, helping their customers to grow and take advantage of the latest opportunities and technologies to achieve their goals.
Konica Minolta takes a holistic approach to service provision. In addition to their cutting-edge hardware, they offer integrated workflows and applications that streamline business processes, automate routine tasks, and enhance collaboration and communication across teams. From document management to cloud-based solutions, its offerings are designed to simplify and optimize workflows, enabling businesses to focus on what they do best.
It is thanks to the unique capabilities of Konica Minolta's solutions alongside its exceptional go-to-market strategies in the ASEAN region that has helped Konica Minolta take advantage of the significant increase in print demand. Since 2022, daily activities returning to pre-pandemic levels has also contributed to the growth in machine shipments. This remarkable achievement is a result of Konica Minolta's unwavering commitment to delivering cutting-edge solutions that meet the needs of its customers.
A Word from Teh Hui Ying, Product Marketing Manager, Production Printing, Konica Minolta Business Solutions Asia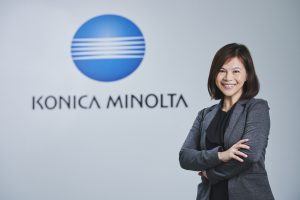 "It brings us immense pleasure to announce that we have secured the position of market leader for the rapidly expanding Colour Production Printing market in the ASEAN region", said Teh Hui Ying. "This accomplishment is a testament to our Igniting Print Possibilities commitment to delivering innovative and sustainable printing solutions  that helps our customers See the Potential. This market share growth reflects our dedication to the continued growth of the ASEAN region, and it only fuels our drive to bring even more ground-breaking and cutting-edge products and solutions to our customers.
About Konica Minolta's Colour Light and Mid Production Printers
Konica Minolta's line of AccurioPress series has revolutionized the digital print production industry, offering a range of printers that can cater to the needs of any business. The AccurioPress C4080 Series, C83hc, C7100 Series, and C14000 Series production printers offer unparalleled colour image quality, next-level automation capabilities, ultra-high-speed performance, and professional-grade inline finishing options, making them the perfect companion for any printer looking to lead the industry in digital print production performance.
With purpose-built reliability and cutting-edge technology, these machines are designed to keep pace with rising client demands and workloads, allowing businesses to remain competitive in an ever-changing industry. Their versatility enables them to cater to any printing job specification, making them well-suited to fit a wide range of printing needs.
In addition to their exceptional performance, Konica Minolta's AccurioPress series are engineered to improve workflow and efficiency, enabling businesses to produce quality prints quickly and reliably. By investing in these production printers, businesses can enhance their capabilities and meet the demands of their clients, ultimately increasing profitability and growth.
With Konica Minolta's AccurioPress series, businesses can stay ahead of the curve and continue to provide exceptional printing services that keep their clients coming back for more.
About Konica Minolta Business Solutions Asia
Konica Minolta Business Solutions Asia is a market-leading provider of trusted technology solutions for enterprise, government, small business, education and manufacturing and is dedicated to shaping workplaces of the future.
Through innovation and partnerships, we provide comprehensive information technology solutions and consultancy to optimise business processes with workflow automation to help business improve and optimise their processes. Konica Minolta is 'recognised globally as a leader in print transformation' (IDC MarketScape, 2020).
We are committed to creating value for our customers and society, and to contributing to a sustainable, equal and fair world. Being recognised and awarded for our contribution to society, we strive and work towards achieving Sustainable Development Goals (SDGs) throughout our business and supply chain.
With over 44,000 employees worldwide and operating in over 150 countries, Konica Minolta, Inc. has been named to the Dow Jones Sustainability World Index, one of the most prestigious global indices of ESG investment, for eight years in a row. Konica Minolta Business Solutions Asia, based in Singapore, is a wholly owned subsidiary of Konica Minolta, Inc., Tokyo, Japan. For more information, please visit https://www.konicaminolta.id/business/en/
https://www.konicaminolta.id/business/en/wp-content/uploads/sites/5/2019/07/logo.svg
0
0
talitha
https://www.konicaminolta.id/business/en/wp-content/uploads/sites/5/2019/07/logo.svg
talitha
2023-07-03 16:10:59
2023-07-03 16:26:55
NEW Konica Minolta is Named Market Leader for Colour Light and Mid Digital Production Printer in ASEAN 2022