Prepress. Automation.
Collaboration. Web‑to‑print.
Print efficiently with AccurioPro Flux. The flexible solution for your print shop.
Choose the product you need
Whether you want to automate your prepress, edit print jobs within your team or set up an online print shop, we have the right product for you.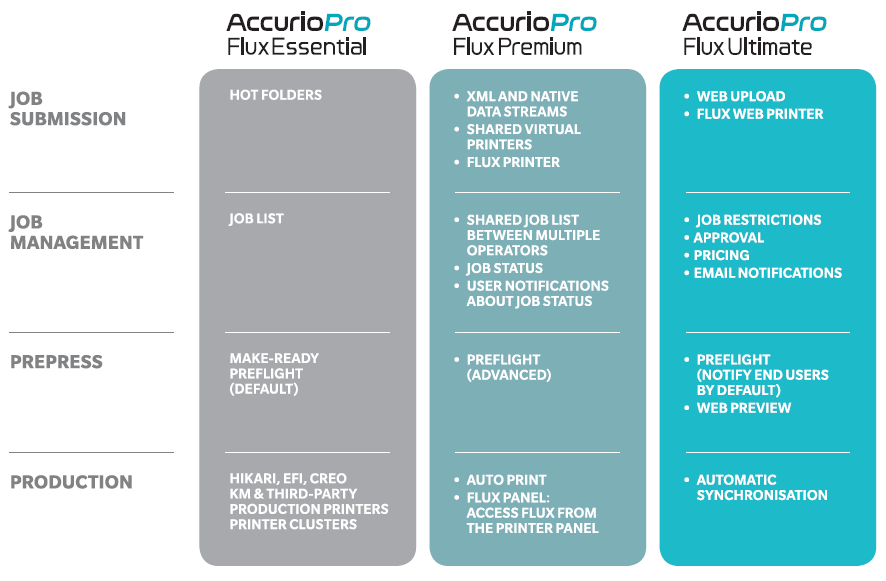 Your flexibility is important to us: Start with our entry-level product and switch to a different product if needed.
Our software solution grows with your needs.
Prepress: AccurioPro Flux Essential
AccurioPro Flux Essential offers all you need for efficient prepress processes. The automation of recurring tasks and centralized control of all production machines will multiply the productivity of your print room.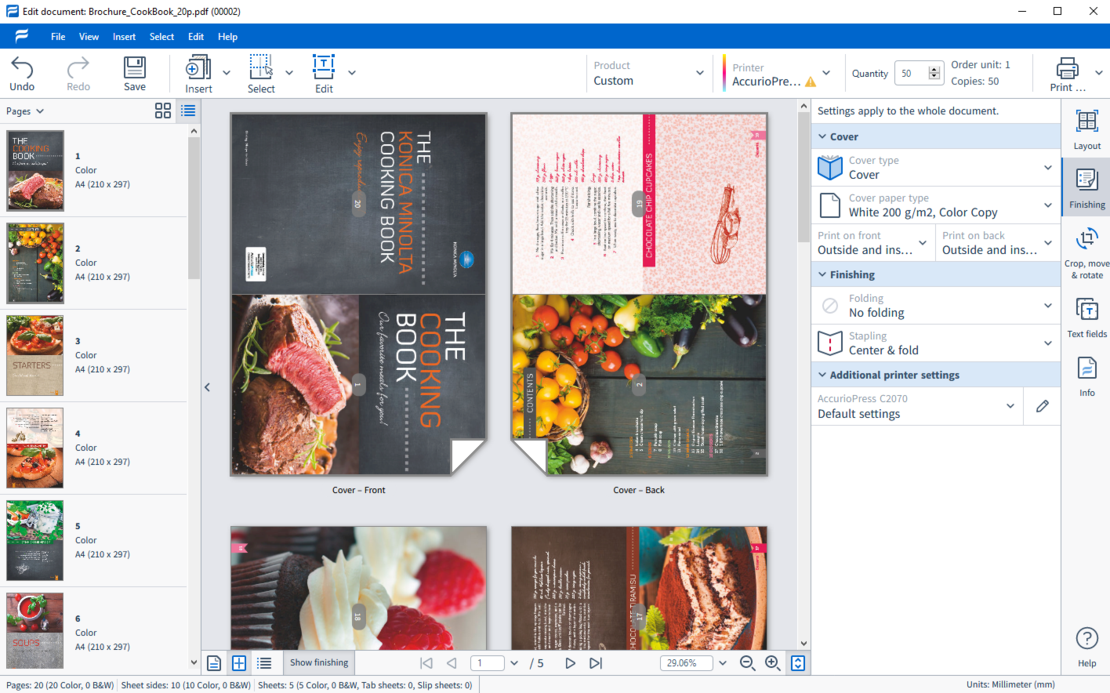 Features
Printer clusters: Optimize the utilization of your production machines by organizing them in printer clusters.
Make-ready on the fly: Process print data more effiently
Hot folders: Share a folder in your network which is linked with a print product
Job management: All print jobs are listed in the main window to guarantee a perfect overview
Integration of 3rd party devices: Our software solution is optimized for output on production machines from Konica Minolta
Benefits
Save time and clicks by automating repetitive tasks
Save time and money by making optimal use of your production printing machines, especially at peak times
Avoid misprints by checking print files automatically
Integrate printing devices from other manufacturers and manage them all with one application
Install it easily on your PC, no server environment needed
Switch between the use of predefined products and the flexible setting up of print documents as required
Automation & collaboration: AccurioPro Flux Premium
AccurioPro Flux Premium includes in addition to the prepress module a powerful server that enables you to receive print jobs from clients within your company network and organize print jobs within your team. Comprehensive reports help you to optimize your print room.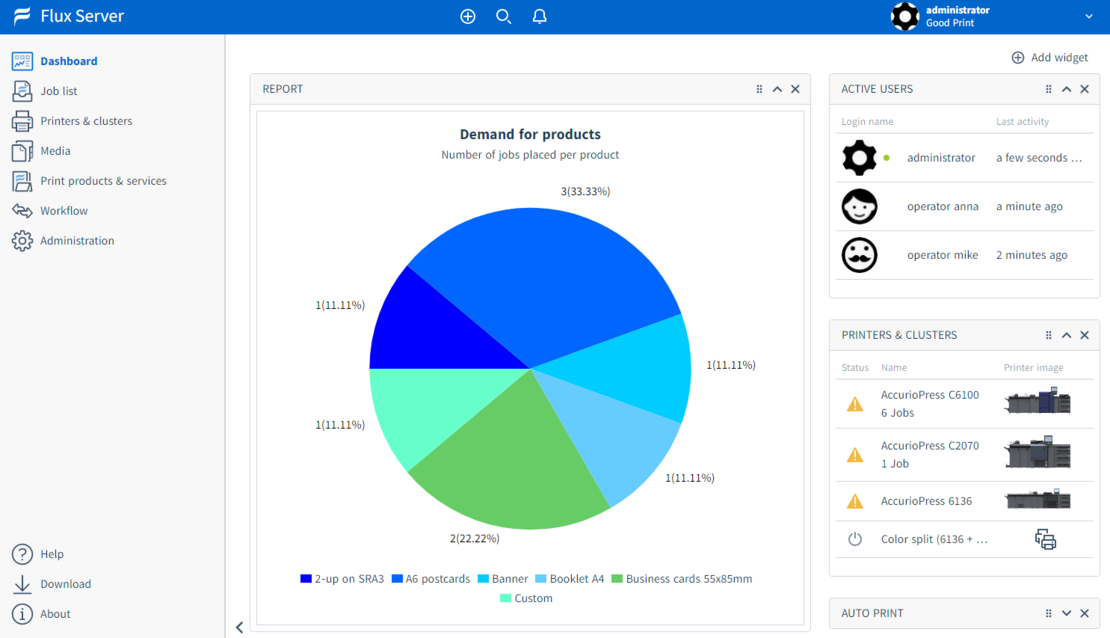 Features
Working together as a team: Collaborate and work simultaneously with several operators, who can see one another's print jobs
Work anywhere: Check, preview and edit jobs anywhere for maximum user convenience
Add rules for jobs: Automatically assign jobs to an operator with the help of predefined rules
Job submission: Send print files directly from the source application via the intranet using a dedicated client
Automatic status tracking: Inform your users about the status of their print job by sending them updates via email automatically
Data analysis & report: Make use of all stored data and create your own graphical reports with the help of an included assistant to create and change report easily
Benefits
Share information about each print job within your team
Organize your tasks efficiently
Receive print-ready documents from your users
Improve and simplify the communication with your users
Get a better picture of your print volume
Flexible processing of print jobs – in the local application, in the browser, on the mobile device or directly on the printer
Web-to-Print: AccurioPro Flux Ultimate
AccurioPro Flux additionally includes an easy to use online print shop to the basic and workflow module. Offer comfortable 24/7 online ordering to your users. It is optimized for commercial printers offering their services to business clients (B2B) and in-house print shops of public institutions, universities and corporations.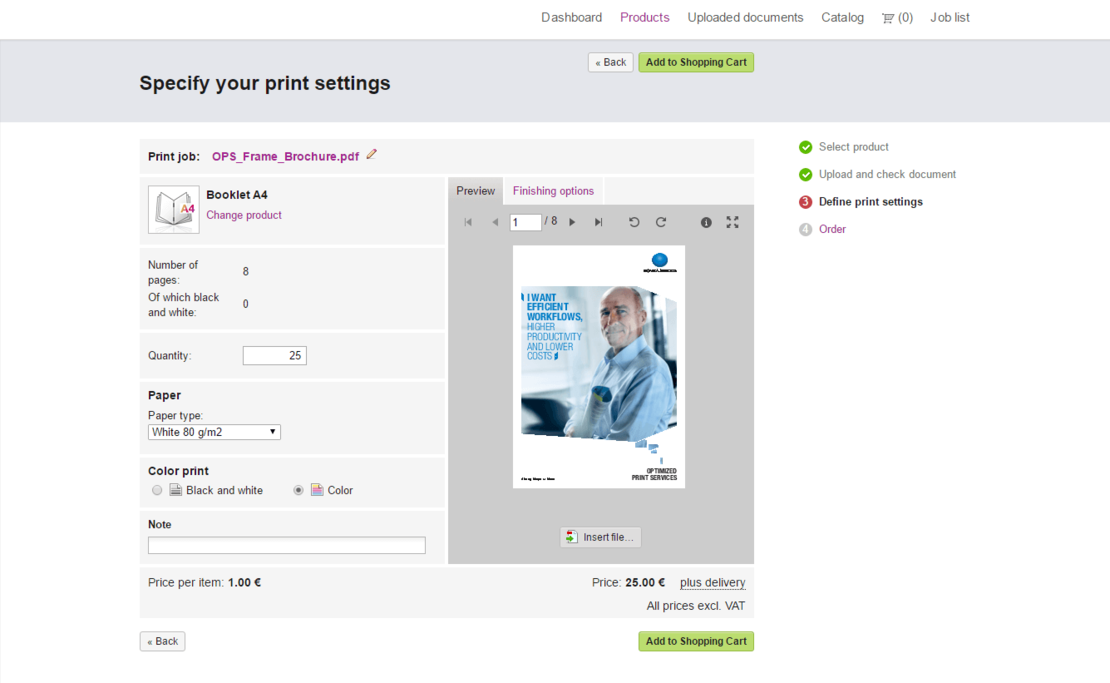 Features
Online Ordering with preview: Easily upload and preview jobs before ordering prints and choose from catalogues of print-ready documents
Pricing & Online payment: You have full flexibility in pricing and customers are able to make payment online
Personalised Printing: Offer personalized print products to your customers like business cards. You can provide editable text fields and place holders for the upload of logos or images
Online Status Tracking: Check the job status online anytime
Easy and Reliable Integration: Integrate the online shop easily in your established IT environment
User Groups: Offer customised online product items based on user group with print order approval mechanism
Approval Workflow: Set up a simple and straightforward workflow which allows approving orders internally before submitting them to your print room
Benefits
Comfortable ordering for your users 24/7
Simple reordering of already finished print jobs from the archive
Simple ordering of print-ready documents from the catalog
Individual offers per user group
Easy integration of existing Active Directories
Easy authentication via single sign-on (SSO)