Following a year of workplace changes that taught businesses plenty about scalability, we can relook at the function of the everyday office. No longer serving as the main workspace for employees following pandemic-enforced remote working measures, the office we see today can serve a more holistic function. More as a space for collaboration and networking, it complements employees' preferences for flexible workplaces.
Businesses providing such flexible workspace arrangements such as co-working, shared office spaces or 'work from hotel' solutions will therefore need to step up to adapt to the trends. Providing operationally-ready environments is one, but delivering more value to remote workers is another.
Ensuring that these flexi-work places come equipped with printers that have similar or more functions than that of their usual workspace is pertinent. What are the best office printers to suit today's working styles?
Konica Minolta's range of award-winning bizhub i-series colour multifunction printers are conceived and designed with the consumer in mind. Whether you are an executive managing corporate governance, an IT professional streamlining security and managerial processes or a daily user preferring simple interfaces, our colour multifunction printers are aimed at delivering productivity with top-class technology and ease of use. Here's a guide to get started.
bizhub C650i / C550i / C450i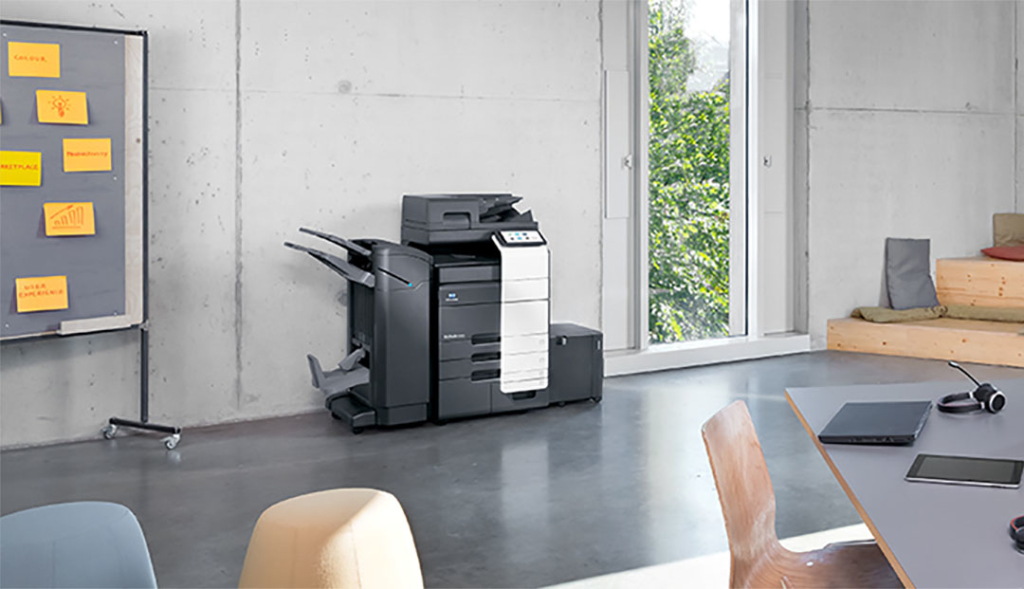 (Konica Minolta's bizhub C450i)
Our line of A3 colour multifunction printers from the bizhub C650i series is a good starting point if you are keen to upgrade your office printer to the best. It is fitted with modern functions necessary for fast, quality, secure and even lightweight design-related printing in the office. These printers are also equipped with additional functions to help you work remotely, remaining secure with an array of security functions built right into the printer.
Top features:
Fast printing & copying capabilities of up to 65/65 ppm
1 inch colour touch panel with intuitive interface, including a choice between simple and advanced panel layout option
State-of-the-art security with various security features, from Bitdefender's virus-scan engine to multiple modes of user authentication
Mobile printing for touchless experience and remote printing
bizhub C360i / C300i / C250i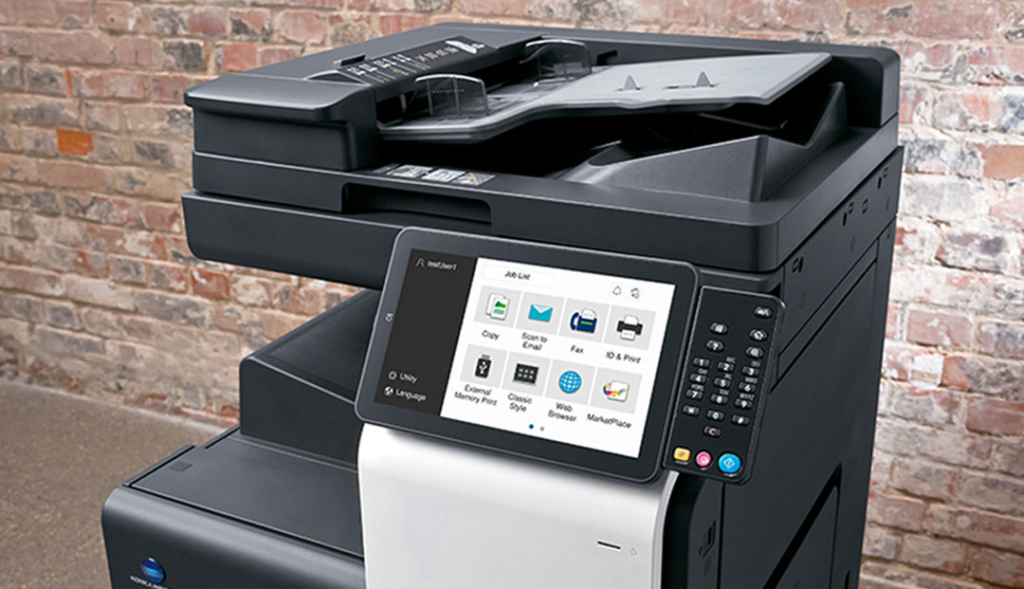 (Konica Minolta's bizhub C300i)
Another option complementing the bizhub C650i line of printers is the bizhub C360i series. With its lower but comparable print speeds for A3 (18/18 ppm) and A4 (36/36 ppm) printing, these printers are made for workspaces who require the same capabilities of the best multifunction office printers Konica Minolta has to offer, at a lower cost.
Top features:
Higher scanning quality at both 200dpi and 300dpi for simplex and duplex
1 inch colour touch panel with multi-touch support, comparable to the C650i series
Highest level of data security with features, including Bitdefender's virus-scan engine and memory data auto deletion that ensures data confidentiality during unauthorised intrusion
Remote-enabled printing capabilities allowing users to manage and print their documents remotely
bizhub C750i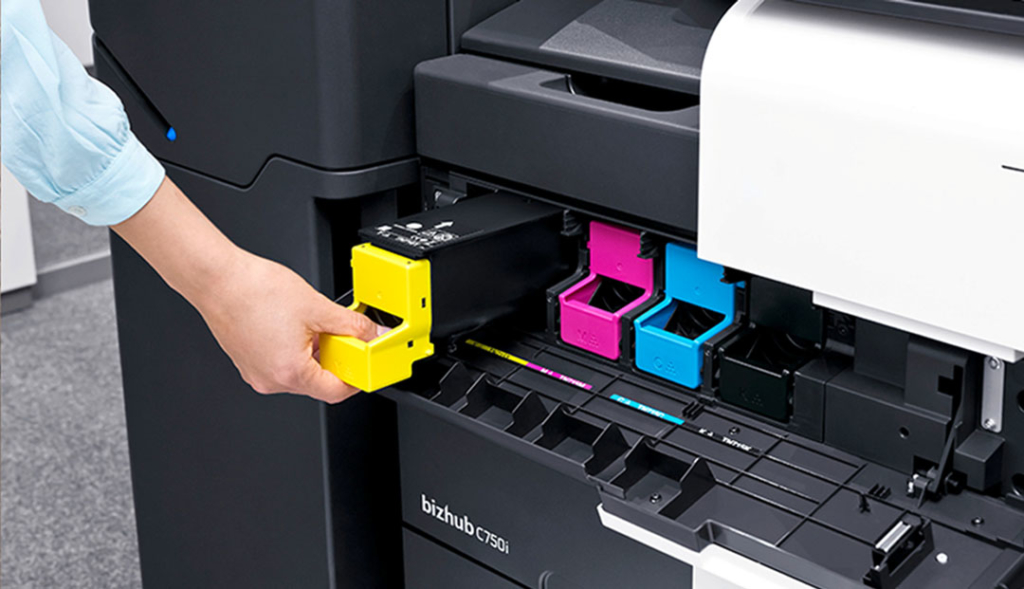 (Konica Minolta's bizhub C750i)
If you are looking for the best A3 colour multifunction printer, the bizhub C750i is it. This printer makes the cut for an office that requires bulk yet quick prints, in addition to its scanning quality that tops the charts. It is well-suited for workspaces that serve a wide range of users, while remaining compact enough for multiple variations of physical spaces. Shared offices and flexi-workspaces would also benefit from such a heavy-duty multifunction printer as these places serve a high volume of users at the same time.
Top features:
Fast printing & copying capabilities of up to 70/75 ppm
Fastest scanning speed of 140/140 ipm for simplex and 280/280 ipm for duplex at 200dpi
Data security, environmental safety and mobile printing capabilities comparable to the bizhub C650i and bizhub C360i series
Konica Minolta's bizhub A3 range has been awarded BLI 2021 A3 Line of The Year Award
We are also proud to announce that we have received 12 Buyers Lab (BLI) Awards from Keypoint Intelligence, the world's leading and independent evaluator of document imaging hardware, software and services. In addition to 10 BLI 2021 Pick Awards for its bizhub A3 MFPs, Konica Minolta secured the BLI 2021 A3 Line of The Year Award. Based on long-term comprehensive testing, Konica Minolta was further acknowledged with the BLI 2021-2023 Most Colour Consistent A3 Brand Award.
Read more about this award from our 15 January Press Release – Konica Minolta wins 12 BLI Awards from Keypoint Intelligence for its bizhub i-Series, including 'A3 Line of the Year'.
We'll let the product speak for itself. If you are looking for the best office printer in 2021, get in touch with our consultants today!
https://www.konicaminolta.id/business/en/wp-content/uploads/sites/5/2022/03/The-bizhub-i-A3-MFP-Series-at-the-Heart-of-your-Workspace-Rethink-It.jpg
260
1120
talitha
https://www.konicaminolta.id/business/en/wp-content/uploads/sites/5/2019/07/logo.svg
talitha
2022-03-04 12:23:58
2022-03-04 14:52:05
Rethink how a Printer can be at the Heart of your Workspace