A multifunction printer is only as good as its hardware and software. In the office setting, the combined capabilities of both are instrumental in achieving seamless operations day-to-day.
Rethinking the office of the future, Konica Minolta marries the robust performance of bizhub i-Series suite of office multifunction printers with the versatility of Dispatcher Paragon, creating an effective environment for print management aimed at continuous productivity.
Ideal for offices in all industries, from healthcare to education, we cover the essential touchpoints that necessitate the adoption of good office printing practices.
Dispatcher Paragon keeps costs under control
The print accounting and management solution Dispatcher Paragon has won the Buyers Lab (BLI) 2021 Pick Award for Outstanding Cost Accounting & Recovery Solution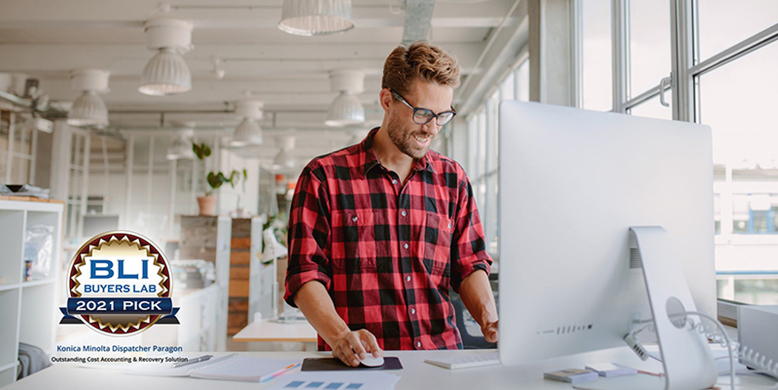 Companies are under more pressure than ever before when it comes to keeping their costs in check. However, many organizations have no control over who is printing, what is being printed, how much an individual user or department is printing or how much money they are spending on printing overall.
With Dispatcher Paragon costs relating to printing, scanning, copying and faxing can be centrally tracked and easily charged back to the relevant teams, departments and individual users. This helps organizations to eliminate paper waste and prevent IT budgets from spiraling out of control.
Speak to our experts today to find out more about Dispatcher Paragon.
Staying Secure: Print Authentication
Security is at the heart of any hardware or software implementation, and Konica Minolta stays at the top of the game by delivering sound-proof strategies for the office environment. Dispatcher Paragon features print authentication to ensure only authorised personnel have access to printers. With the option of using your access card, biometric or contactless facial recognition together with the bizhub i-Series multifunction printers, it ensures that only authorised persons are allowed to print and collect their documents securely  –  eliminating any risks of missing sensitive documents.
The built-in antivirus solution in the multifunction printers, the Bitdefender, offers added protection of data, alongside the advanced security setting of the bizhub SECURE that safeguards data stored in the encrypted SSD and the network. These are extremely critical in print-heavy industries that require a high level of security. For instance, individualized and endorsed student records produced for official documentation by education authorities as well as affidavits printed by lawyers for high-profile litigation cases must avoid tampering of such documents, the solution of which Konica Minolta effectively provides.
Keeping Safe: Mobile Contactless Printing
Allowing for greater flexibility in printing, Dispatcher Paragon enables users to securely print to any office printers as long as they are connected within the organization's network via their mobile devices Dispatcher Paragon allows jobs to be sent directly from mobile devices through the Konica Minolta Mobile Print app, ideal for employees on-the-go. Android/IOS users can scan the QR code on the MFP or scan for available devices via Bluetooth to authenticate and release their print jobs from their mobile device. Being able to submit print jobs from anywhere at any time, employees are free to choose from where they want to work. Independence from their workplace provides enhanced mobility, increasing users' overall efficiency and productivity
The Konica Minolta Mobile Print app also allows jobs to be sent directly from mobile devices, ideal for employees on-the-go. Mobile users can turn on NFC and hover over the printer's built-in mobile touch area to pair, authenticate, print and scan.
Going Green: Environmentally-friendly Offices
Konica Minolta also champions a range of environmental considerations to address the need for greater sustainability during business operations. For instance, the casing of the multifunction printer is built with recycled materials. Up to 70% of the exteriors are made of recycled Polycarbonate Polyethylene Terephthalate (PC/PET) while the interiors include up to 95% of recycled Acrylonitrile butadiene styrene (ABS) resin. Power consumption is also improved, especially in sleep mode that draws only 0.5W.
In terms of carbon footprint, the bizhub i-Series supports a carbon dioxide reduction of up to 29%. Complementing these, the Dispatcher Paragon also allows administrators to manage print jobs and reduce unnecessary wastage of resources. Its rule-based engine sets conditions and resulting actions, for example, restricting users to only mono-printing.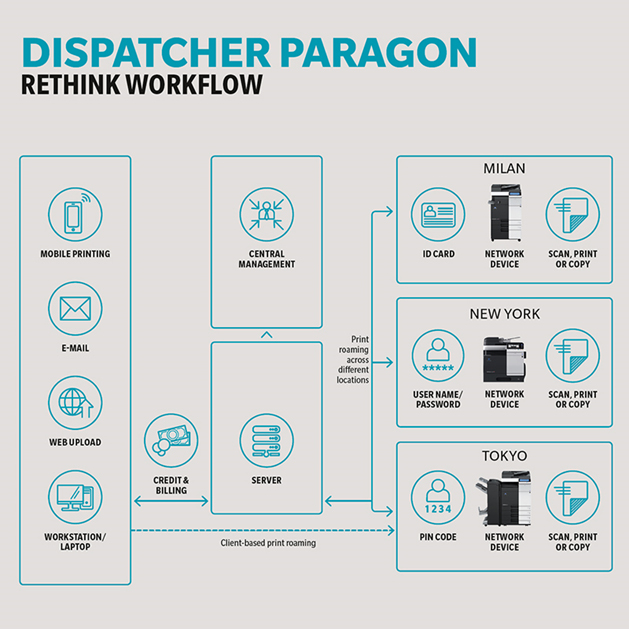 Rethinking office operations with Konica Minolta
Konica Minolta aims to revolutionise the way offices operate, taking a leap into the future with the bizhub i-Series and Dispatcher Paragon, as well as a suite of other tools that deliver an intelligent connected workplace of the future. To learn more about what we can do for your office and business, consult our specialists today.
https://www.konicaminolta.id/business/en/wp-content/uploads/sites/5/2022/03/rethink-your-office-with-konica-minolta-multifunction-printers.jpg
201
865
azinmutakin
https://www.konicaminolta.id/business/en/wp-content/uploads/sites/5/2019/07/logo.svg
azinmutakin
2022-03-11 13:50:34
2022-03-11 14:26:33
Rethink your Office with Konica Minolta's Multifunction Printers