Optimising Workflows with Document Digitisation Solutions
Creating, editing, and sharing documents across multiple business functions can take a toll, even on your most organised employees. From ensuring consent and managing expectations to sharing information, documentation will remain an integral part of every business.
Advancing into technological uses translates to the steady but persistent rise in document digitisation services. Routing and approval processes require efficient and secure pathways – a feature prevalent in an effective document management system.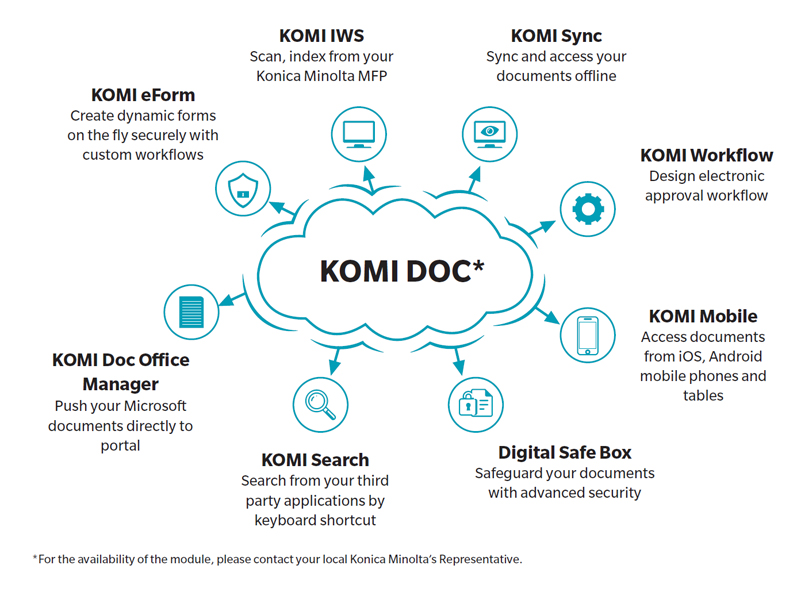 Documents on the Cloud
KOMI Doc helps businesses simplify workflows through document digitisation and efficient routing. Boasting multiple advanced features, the Cloud document management system transforms the way your business operates, giving it an edge over competitors.
By significantly reducing time and effort that goes into document management, businesses will be able to offer better customer service and seamless processes. Effective document management can demonstrate unrivalled advantages for a smoother, more cohesive business.
Digitising for efficiency
Although paper documentation is a thing of the past, some organisations upkeep a few of them for fears of digital privacy intrusions. Not only are they difficult to trace, they also take up a large amount of physical space.
Document digitisation solutions like ours can help your business transition to electronic workflows – a necessary adaptation with increased remote work needs. KOMI Doc's mobile app, for instance, allows employees to access documents anytime anywhere. Similarly, retrieving the most recent version of a document is no longer a roadblock.
Improving integrative capabilities
From communication to multi-tool accessibility, KOMI Doc is ready to deploy for effective document management and seamless workflows.
The Workflow Manager engine straightens out advanced document routing, bypassing common roadblocks in approvals that are apparent in collaborative work. Printing your documents is one step away, through smart integration with the multifunction printer (MFP) panel. Optical Character Recognition (OCR) technology allows for quick search and retrieve needs, making the process straightforward for all executives.
Enhancing confidentiality 
Security is one of the biggest challenges organisations are facing as the transition to all things digital garners speed.
The KOMI Doc document management platform comes with enhanced security features, including but not limited to encryption, digital watermarks, access control, and multi-factor authentication. Organisations can collaborate confidently, knowing preliminary structures are in place for added security.
Reshaping Document Digitisation with Konica Minolta
Streamlining processes for document control is key to seamless and efficient business workflows. Document control and collaboration are cornerstones of every business. No matter what line of work, the need for smarter document digitisation is prevalent. With Konica Minolta's KOMI Doc platform, you'll be able to hit the nail on a number of touchpoints – security, communication, and automation.
Speak with an expert today to start your digital transformation journey.
https://www.konicaminolta.id/business/id/wp-content/uploads/sites/8/2022/06/Web_Banner_1120x260.jpg
260
1120
talitha
https://www.konicaminolta.id/business/id/wp-content/uploads/sites/8/2019/07/logo.svg
talitha
2022-06-09 13:18:55
2022-06-10 16:01:42
Optimising Workflows with KOMI Doc