Create Impactful Strategies With AccurioLabel 230
With trends that are set to position label printing as an effective business tool, through creativity, engagement and innovation, the industry will continue to boom for years to come. Once valued at $36.98 billion in 2017, the global label printing market is set to reach $49.90 billion by 2024, with a CAGR pegged at 9% over a 2021 – 2026 forecast period.
Among the world's continents, Asia is the largest market for label printing, which will occupy almost half (45%) of the global share by 2022. Driving these developments are innovative and industry-grade digital printing technologies such as Konica Minolta's industrial printer, the AccurioLabel 230, which is aimed to revolutionise the way businesses pay attention to product packaging today.
Digital solution to traditional inefficiencies
Today's business climate is one that fosters personalisation and on-demand printing. Naturally so, conventional presses become a hurdle in reaching operational efficiencies. The core challenges for conventional presses are evident with each print job, when there is a need for plate changing and ink cleaning.
The mechanisms of digital industrial printers overcome these. Since print data is directly fed from the computer to the press, only paper replacements and minimal colour adjustments are required. Plus, with stable quality of output, digital label printing effectively reduces print wastage as opposed to conventional variants that waste a substantial amount of ink on trial runs. With intuitive print settings and clear user instructions, any individual can master operation of the printer.
Applicability to wide ranging business needs
With flexible operability of digital printers, label printing not only becomes more accessible to small and medium sized businesses but also provides unlimited creative avenues businesses can explore. For instance, labels with fine thin lines are faithfully reproduced by the edge treatment function of the AccurioLabel 230 – such details play a big role in product differentiation in a saturated market. Add on levels of gradations, small point character and textured printing and businesses can open the doors of creative expression like never before.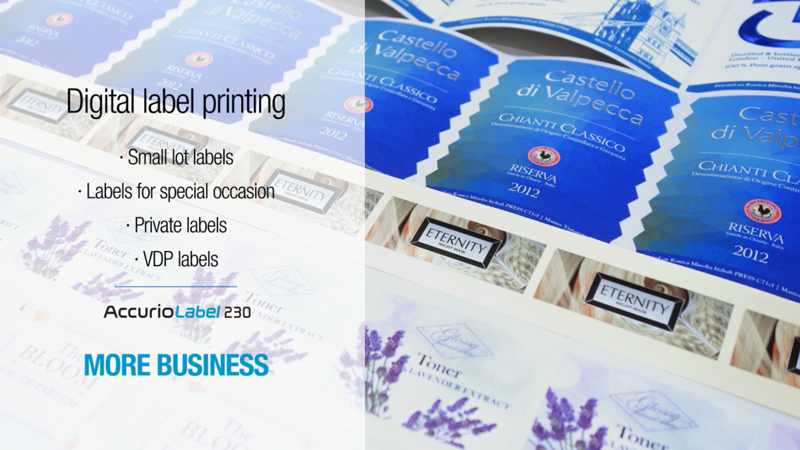 More critical to businesses, however, is the ability to create more personalised shopping experiences for consumers. For instance, AccurioLabel 230's variable data printing feature allows for content changes such as header information, texts and images per sheet, taking branding to newer heights.
Focused on productivity & quality
The realm of digital runs synonymous with productivity – digital label printing is no different. With short warm-up time, fast print speeds of 23.4 metres per minute and long continuous printing of up to 1,000 metres, the AccurioLabel 230 is designed for businesses who want to reduce the time from print to shelf. At the same time, printing companies deliver assignments with faster turnaround times, greatly influencing customer satisfaction.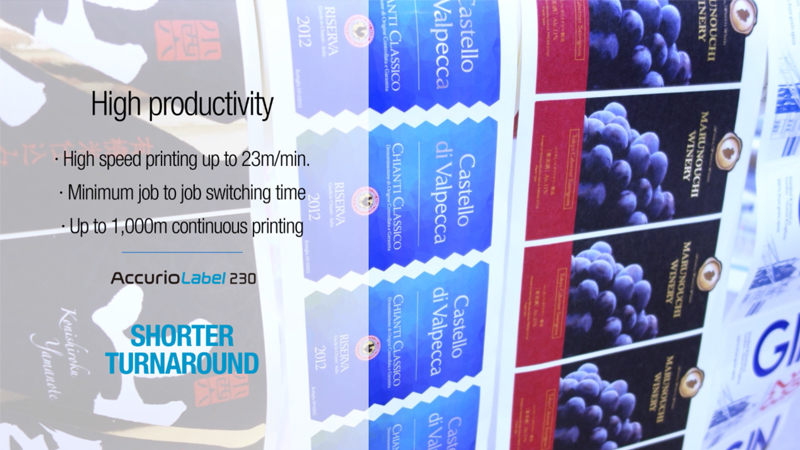 This is further supported by a suite of additional features such as accurate registration of overprints and a wide range of media compatibility without pre-treatment. With speed, there is no compromise on quality – from multi-gradation data processing at high resolutions to premium image processing technology, productivity is achieved on unprecedented levels.
Redefining label printing in the 21st century
Bring success to your business with the power of digital – explore a demo of the AccurioLabel 230 and other industrial printers in our virtual Customer Engagement Centre and find out how our solutions support and elevate your business strategies, or speak with our specialists today!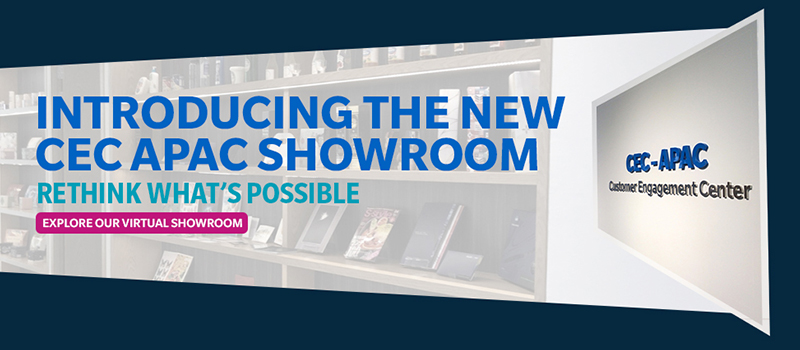 https://www.konicaminolta.id/business/id/wp-content/uploads/sites/8/2022/06/AccurioLabel-230-Article-Webpage_1120x260.jpg
260
1120
azinmutakin
https://www.konicaminolta.id/business/id/wp-content/uploads/sites/8/2019/07/logo.svg
azinmutakin
2022-06-21 14:09:24
2022-06-21 14:53:08
Success-driven Strategies with AccurioLabel 230